Discover our Learning Paths! Read through the most frequently asked questions below:
The new OffSec Learning Library has given us the freedom to expand our training and move beyond the traditional Offsec course format, and so emerged a new, more versatile way to organize and consume our content which we are calling Learning Paths.
Learning Paths have existed for a while in the OffSec Learning Library in the form of level 100 content. To make them easier to identify, we are now renaming and moving these learning paths away from the Courses menu.
On top of that we are also preparing to release new Learning Paths for you to explore.
---
Learning Paths:
Are shorter in length than the traditional courses.
Allow for a more focused learning experience, where the learner can concentrate on improving a particular skill as opposed to tackling an entire set of skills needed to complete a course and pass an exam all at once.
Allow the user to set shorter, and easier to achieve goals before they move towards more ambitious content like a full course.
Do not end in an exam.
Some Learning Paths may have an assessment at the end.
---
Our existing learning paths are designed to prepare learners to build the basic skills and confidence needed to take on more advanced material such as PEN-200, WEB-200 and SOC-200.
With the Brand Refresh that took place on March 1st, 2023 we updated the name of our content that was previously known as "100 Level Courses" and moved them from the Course drop-down menu to their own menu in our OffSec Learning Library named Learning Paths.*
The new and improved names for our Learn Fundamental content is as follows:
PEN: Network Penetration Testing Essentials
SOC: Security Operations Essentials
WEB: Web Application Assessment Essentials
EXP: Exploit Development Essentials
CLD: Introduction to Cloud Security
SSD: Introduction to Secure Software Development
We have also released new OffSec curated Learning Paths to our OffSec Learning Library:
Get into Windows
Get into Linux
Get into Development
Get into Networking
Get into Active Directory
Get into Low Level Binary Security
Get Good at Python
Kali Linux Essentials
Get Good at C
IT Generalist (Beginner, Intermediate, and Advanced)
SOC/Ops (Beginner, Intermediate, and Advanced)
To learn when new paths are added, check the Learning Paths drop-down in the Offsec Learning Library or subscribe to our newsletter.

* To help with the transition to the new naming and location, learners may see both name versions, in both the old and new location of the OffSec Learning Library for a few weeks.
---
You can access the Learning Paths in the OffSec Learning Library in the Learning Paths menu: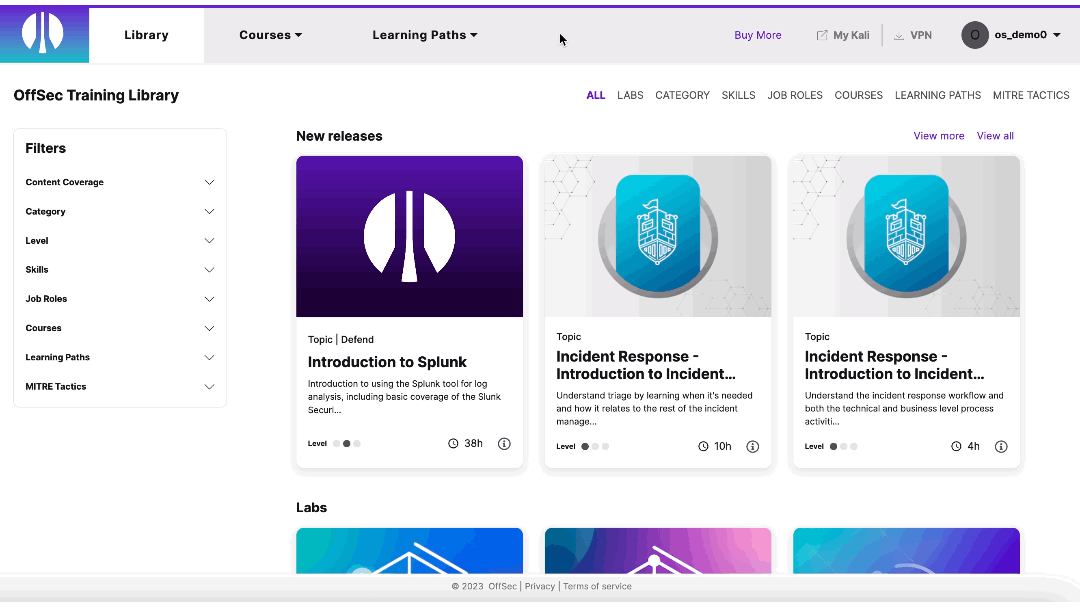 If you do not have an account yet, you can still view the topics included in our Learning Paths in our OffSec Learning Library.
---
Our Learning Paths are currently available as part of the Learn subscriptions.
---
You can access the Learning Paths included in your subscription for as long as your subscription is running.
---
No, we're currently offering Assessments for the following Learning Paths:
Network Penetration Testing Essentials
Security Operations Essentials
Web Application Assessment Essentials
For additional information about our Assessments, please visit our Assessments FAQ.
---
Yes, we will continue to add more and more content to our Learning Paths as we grow the OffSec Learning Library.
---
Foundational and Advanced Learning Paths may be made available in the future. Stay tuned!