We think of every OffSec learner as a member of the OffSec community. Our OffSec Discord server encourages and facilitates interaction among OffSec learners and OffSec staff members while learners study for their OffSec certifications.
If you already have an Offsec Learning Platform account, simply sign in and follow the steps below to join the Offsec Discord server:
Click on your username.
Under the Resources section, select Connect to Discord.

Accept the invitation to join our channel.
Create a new account with Discord or click the Already have an account? button to sign in with an existing Discord account.
If you do not yet have a PG Play account, but wish to create one, you can register in the Proving Grounds here.
If you wish to join our Discord community without a Proving grounds account, you can follow the instructions described in our OffSec Community Chat User Guide.
____________________________________________________________________________
We LOVE when our learners actively engage in our community! If there is anything you wish to share, please contact @ZealousBrit on the OffSec community chat platform. We welcome your ideas and engagement!
___________________________________________________________________________
Please be polite and courteous within the chat platform as we do not tolerate unmannerly behavior of any kind. Below are the list of unacceptable topics within any of our channels:
We do not allow discussing information on the machines outside of what is publicly available.
We do not allow discussing information on the course exams outside of what is publicly available in the course Exam Guides.
We do not allow users using insults, profanities, or being rude and disrespectful to their fellow users in the channels.
We do not allow discussing illegal activities such as hacking private individuals or corporations.
We also request users to keep discussions related to the channel topic. If you are not sure what channel to start the discussion on, please check the #off-topic and #main channels.
OffSec members will be monitoring the channel, to make sure the channel rules are observed and compiled.
____________________________________________________________________________
In order to access the OffSec Technical Support Bot, you will need to log into Discord and navigate to the OffSec Community Discord Server. Once in the server, you may navigate to the #offsec-support channel.
Once you have navigated to the #offsec-support channel, you will be presented with a few categories that will allow us to better assist you with your specific issue.
The current categories are as follows:
VPN Support: This category is for assistance with VPN connectivity issues, such as being unable to connect to the VPN or a slow VPN connection.
Machine Related: This category is for assistance with connectivity to specific machines. This is NOT for hints or assistance with the Proving Grounds or course machines.
Portal: This category is for assistance with issues relating to the Offsec Learning Library Portal, such as the inability to start lab machines or load a web page.
Each category may provide you with troubleshooting steps that we may recommend you take for your specific issues. Please make sure to read the steps that we provide carefully, as each step has been tailored.
If the suggestions provided by the automated system do not help resolve the issues you are experiencing, you will be provided with a form to submit a request to our team for further assistance. Please make sure to provide as much information as possible about your issue when filling out the form.
After filling out the form you will be placed into a queue and will be assisted as soon as possible. Please stay online while awaiting support. Once someone is able to assist you, a private channel will be created for you where you will receive assistance from one of our support staff.
____________________________________________________________________________
OffSec has taken steps to increase communications with our learners and implementing Office Hours is one of them.
This is an opportunity for our community to interact with the OffSec staff and where members can ask any questions they may have related to courses, latest releases, updates, career opportunities, career advice, and more.
Once the Office Hour starts, a banner will show at the top of the server showing the event is live. Clicking that banner, finding the channel "OffSec Office Hour" or clicking this link https://discord.gg/59umsvmYr3 will take you there.
Once you've joined the channel, you can request permission to speak over audio if you'd like. Our staff will grant you access to ask your question.
Otherwise, you may ask your question in the text channel "wire-side-text". This link will take you there https://discord.gg/6wHV55ZNs9
Once you've asked your question, please be patient for FalconSpy or the other MC to ask it to the panelist of staff. Please note some questions may be skipped due to complexity, asked already multiple times, or they were simply missed in the flood of questions.
Below you can see what the Banner looks like once the Office Hours go Live and the Channels used for this Event: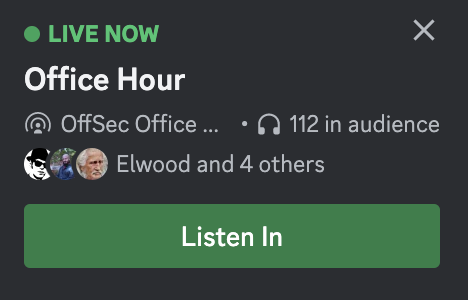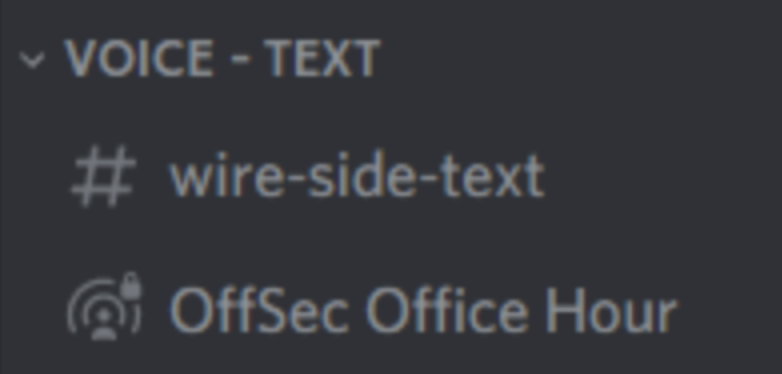 Office Hours are typically held on Fridays around 1pm EST, and run for approximately 1 hour. However, if the community is highly interactive and the questions are many, it might go over.
____________________________________________________________________________
To unlink your Discord account from your OffSec account please submit a request so we can delete the old record. This will allow you to add a new different discord account if needed, or leave your Discord account disconnected from the OffSec Learning Platform.
___________________________________________________________________________
We recommend keeping an eye on our Blog for new releases and updates, as well as our ongoing Podcast series and Webinars.