Starting April, 2022 OffSec digital certificates and badges got a new look. Besides the change in look we also brough improvements which makes the certificate version easier to share, easier to verify and more secure.
With the exception of OSCE3, all the traditional physical paper version certificates and wallet cards are no longer available.

You can read the full announcement here.
Below, you can find answers to the following questions:
---
Yes! OffSec provides certificates and badges once you pass your Exams or Assessments. We highly recommend to visit the link here to know which course or assesments contains badge and digital certificate.
---
Your "Exam Results" email contains a URL which enables you to claim your badge. Within minutes of submitting your details via the URL, you will receive a separate email from Accredible, containing a link to your new digital badge and certificate.
In order to receive the Accredible email, make sure to check the box saying: Yes, I agree to receive digital certifications and badges from Accredible.
If you do not receive an email within the allotted time, please submit a request here and our support team will be happy to assist you.
---
Creating an account with Accredible is not necessary in order for you to be able to view, download and share your credentials.
If you're unable to locate the email from Accredible after claiming your badge.certificate, you can retrieve the certificates or badges associated with your email address here.
If you already have an account with Accredible or wish to create one, you can sign in or setup your new account here.
---
All of our alumni are able to claim their digital badge and certificate for any exam they've passed with OffSec. If you haven't received an email notification from OffSec with information about your Accredible digital credentials, then please submit a request here.
---
To share your certification on social media, access your digital credential with Accredible and use the buttons in the "Share your achievement!" section.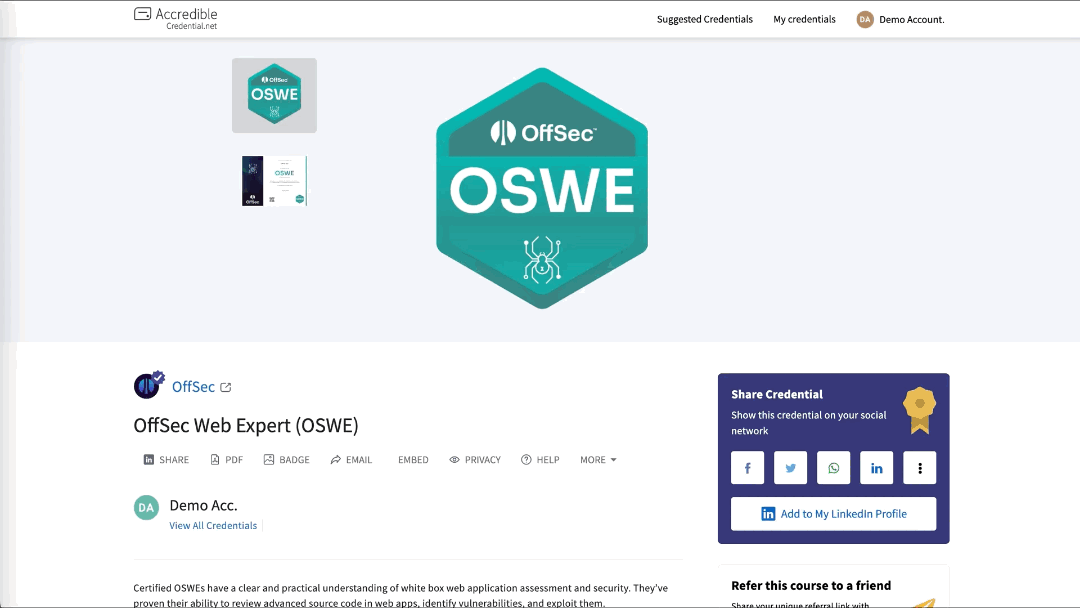 ---
Once you've accessed the "My credentials" page, you will first have to select the credentials you would like to download. Once you're on the selected credentials page (i.e. OSEP), you can download the certificate and/or badge via the buttons under the credential's name: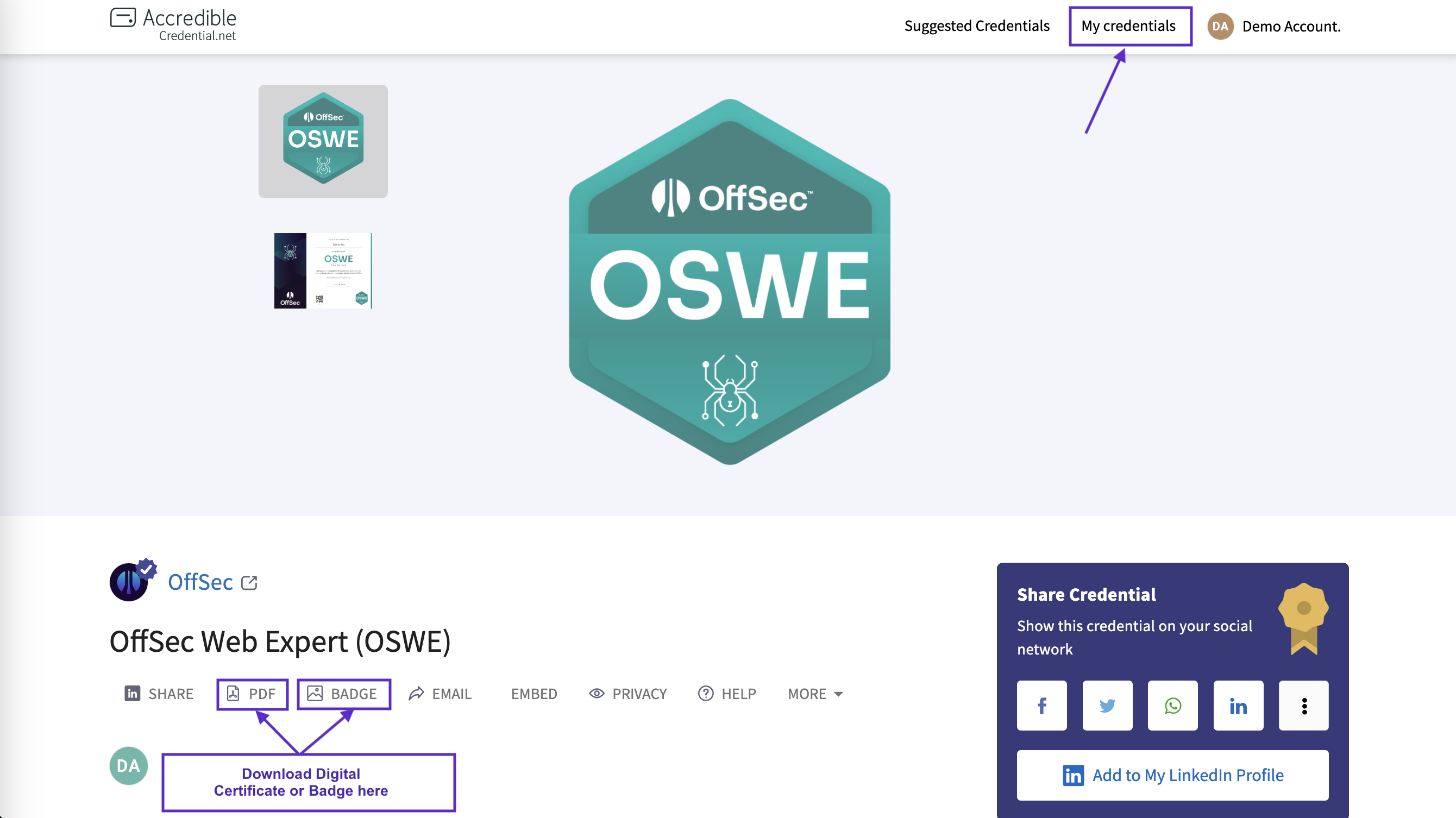 ---
If you no longer wish to showcase your badge and certificate, you can switch the privacy of your credential from Public to Private. Note, in order to use this functionality, you will need to create an account with Accredible.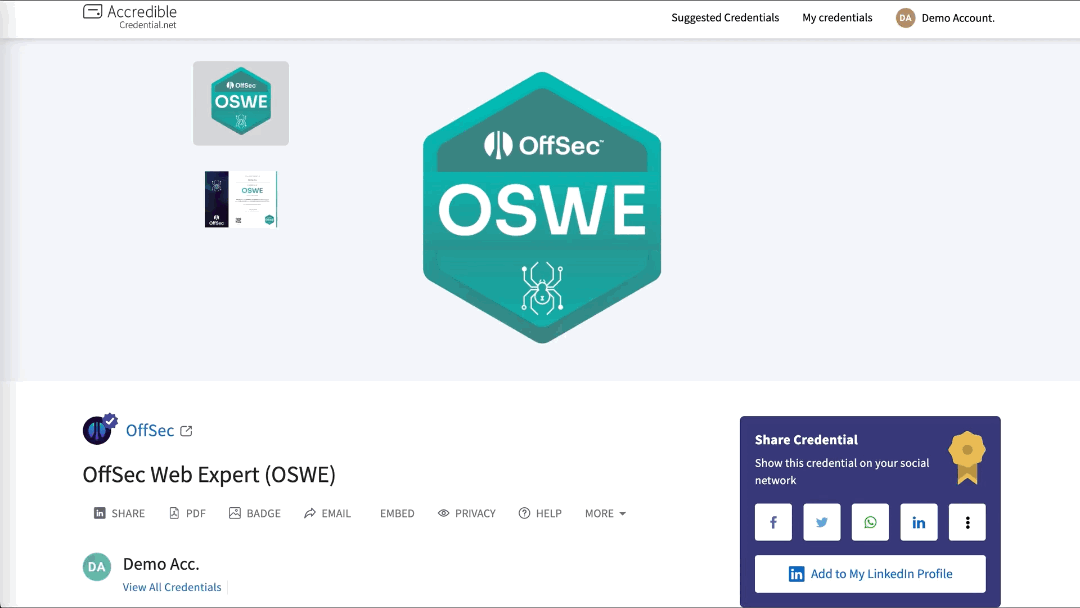 ---
In order to modify the name appearing on your badge and certification, please submit a request here and we'll be happy to assist you.
Note that OffSec issues certificates only under the legal name appearing on your official, Government-issued IDs.
---
No, outside of the OSCE3, we have stopped the printing for all of our certificates.
---
While ordering a reprint is no longer available, you are highly encouraged to claim your digital certificate and badge. The digital certificates available are built to allow our learners to print them if they wish to do so.
A guide containing our recommended printing specifications can be found here.
---
Yes, learners who pass an exam receive access to a high quality digital version of their certificate which can be printed on demand from home or at a local print shop.
---
No. Our certifications do not expire and do not need to be renewed. Therefore, the associated digital certificate and badges will also not expire.
---
Yes, the digital certificate carries the same weight as a paper certificate.
---
The traditional printed wallet cards have also been modernised. With Accredible, you can now add your credentials to your mobile wallet by selecting Add to Mobile Wallet in the More drop-down menu.
To add your wallet card, you will have to open the page on your mobile, while being logged in to your Accredible account, and press the Add to Wallet button.