Welcome to OffSec courses! This quick start guide provides valuable information to begin your journey, including software setup, training and exam resources, support options, and helpful tips. Let's get started on your cybersecurity learning journey!

Supplemental Guide available at the end of this article:
---
Once your registration is complete, you will gain access to the OffSec Learning Platform, which is the starting point for your learning journey. Here's quick a introduction:
*October 2023 video - interface/functionality may change as the OffSec Learning Platform improves
To browse the library, you can filter the content you have access: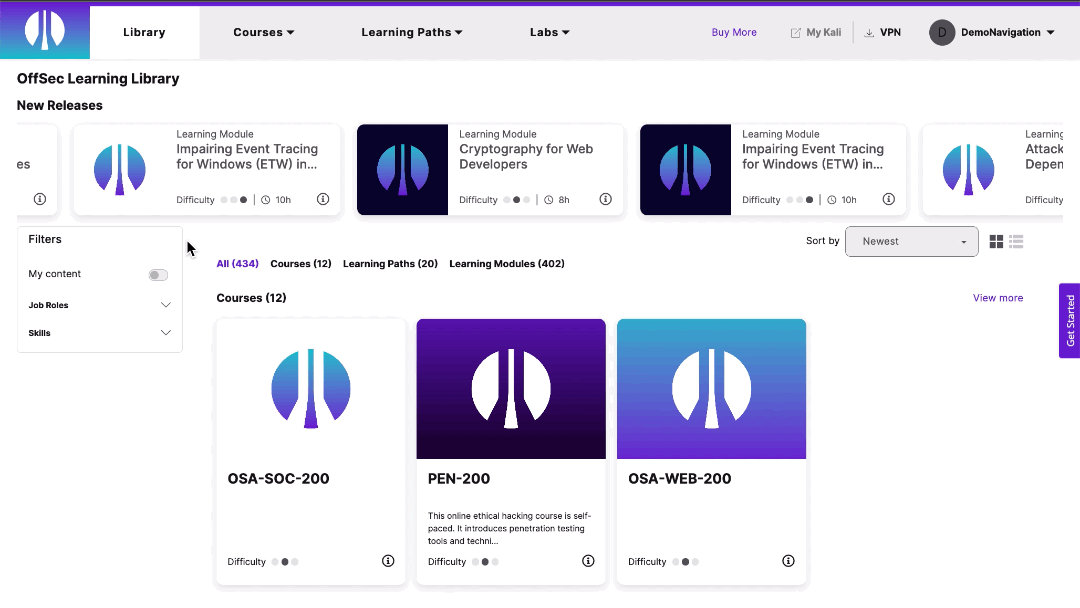 To gain a comprehensive understanding of the content and features offered within our OffSec Learning Library, we highly recommend visiting:
---
You can access the online course training materials via your OffSec Learning Library. The content is organized into modules and sections for your convenience.
To access your course material topics: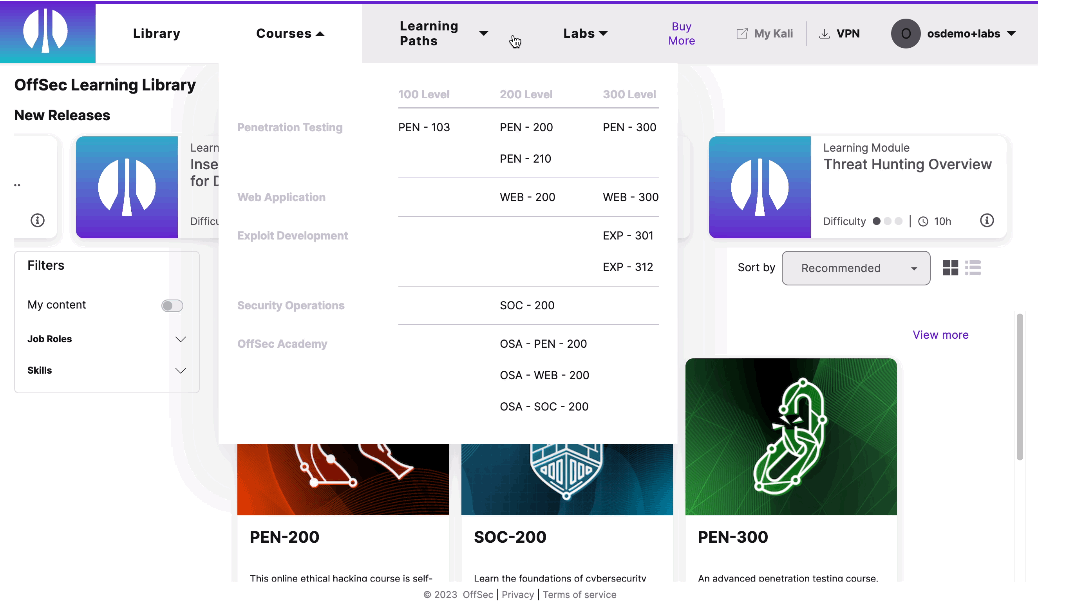 To access your course material videos: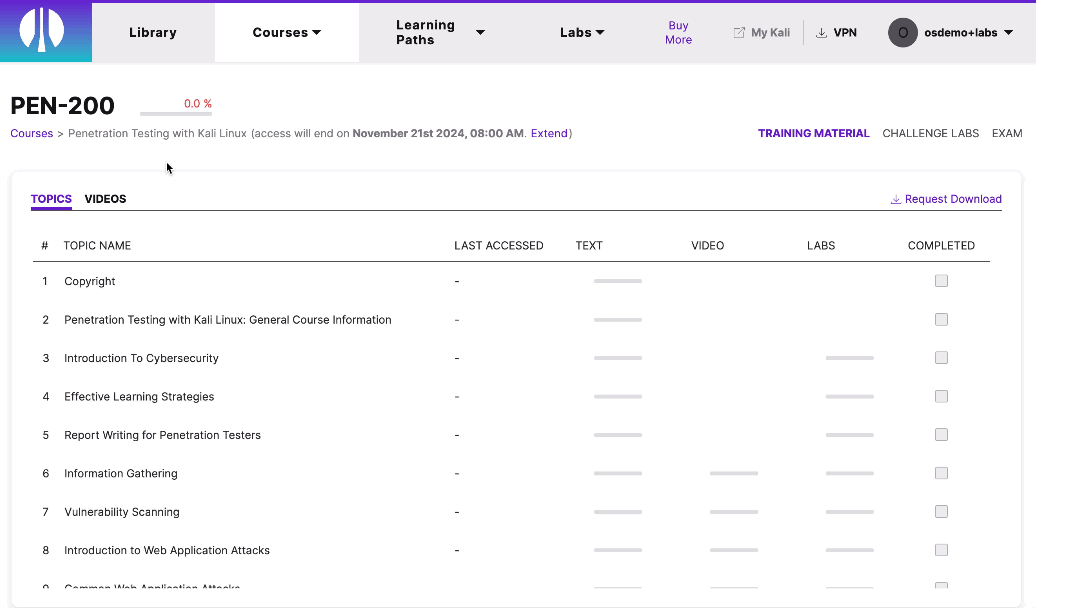 To download the course materials: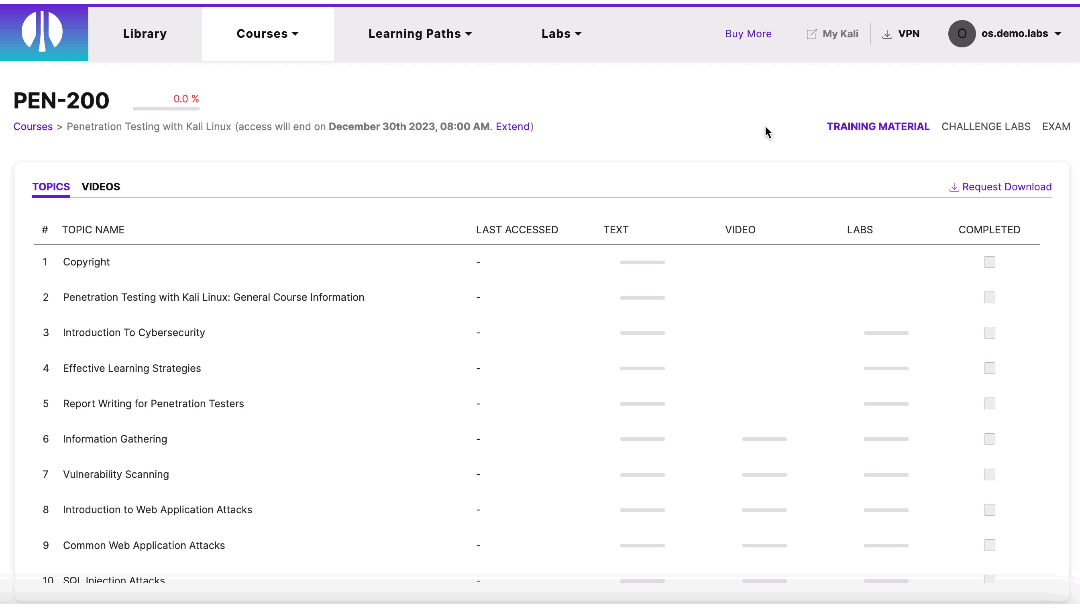 We encourage you to generate and download your course materials no later than 10 days before your lab access ends. Requesting to generate your materials too close to your lab end date may prevent you from completing the download process.
Once materials are generated, you'll have 72 hours to download them and will receive an email notification when they are ready.
---
We strongly recommend that all students use a Kali VMware image for the most streamlined experience. For information on how to download, install and use the Kali VMware image, please view the Kali Linux VM article. Once your Kali VMware has been installed, follow the instructions below to download and install the Virtual Private Network (VPN).
1. Download the VPN
In order to study in the OffSec labs, you will need to be connected to your VPN. To download your VPN connectivity package, click on the VPN button located at the top of your OffSec Learning Platform (OLP) dashboard and click 'Universal'.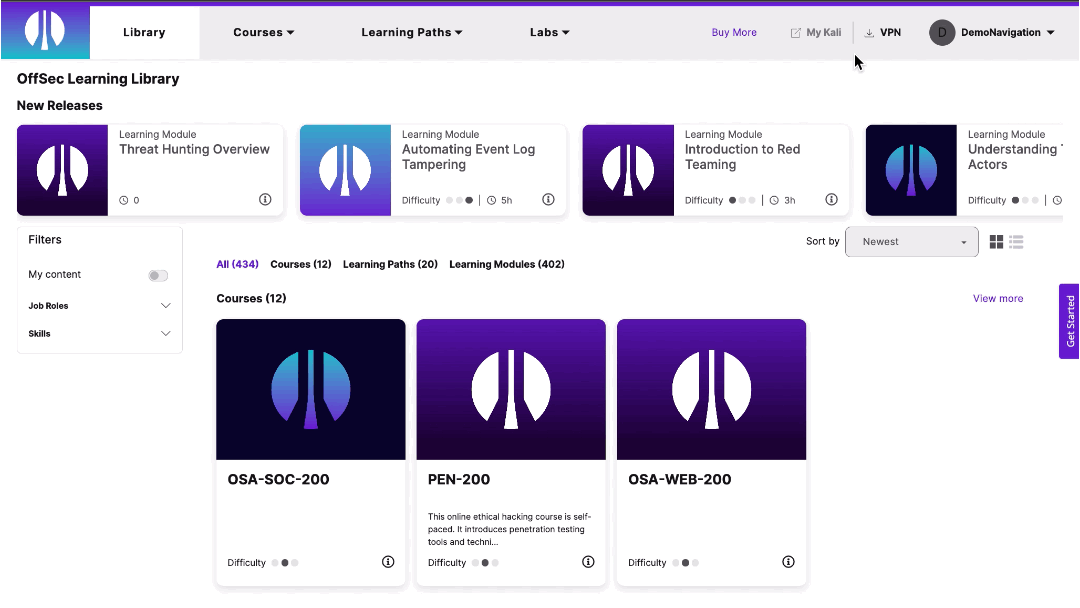 2. Connect to your VPN
Once downloaded you will find an OpenVPN (OVPN) file that you will use to connect to your VPN as shown below. Please note, no credentials are needed to connect to your VPN, as illustrated below:
kali@kali:~$ sudo openvpn universal.ovpn 
Mon Mar  2 09:10:49 2020 OpenVPN 2.4.7 x86_64-pc-linux-gnu [SSL (OpenSSL)] [LZO] [LZ4] [EPOLL] [PKCS11] [MH/PKTINFO] [AEAD] built on Feb 20 2019
Mon Mar  2 09:10:49 2020 library versions: OpenSSL 1.1.1d  10 Sep 2019, LZO 2.10
Mon Mar  2 09:11:08 2020 TCP/UDP: Preserving recently used remote address: [AF_INET]x.x.x.x:1194
Mon Mar  2 09:11:08 2020 UDP link local (bound): [AF_INET][undef]:1194
Mon Mar  2 09:11:08 2020 UDP link remote: [AF_INET]x.x.x.x:1194
Mon Mar  2 09:11:08 2020 WARNING: this configuration may cache passwords in memory -- use the auth-nocache option to prevent this
Mon Mar  2 09:11:09 2020 [offensive-security.com] Peer Connection Initiated with [AF_INET]x.x.x.x:1194
Mon Mar  2 09:11:10 2020 TUN/TAP device tun0 opened
Mon Mar  2 09:11:10 2020 /sbin/ip link set dev tun0 up mtu 1500
Mon Mar  2 09:11:10 2020 /sbin/ip addr add dev tun0 192.168.x.x/24 broadcast 192.168.x.x
Mon Mar  2 09:11:10 2020 Initialization Sequence Completed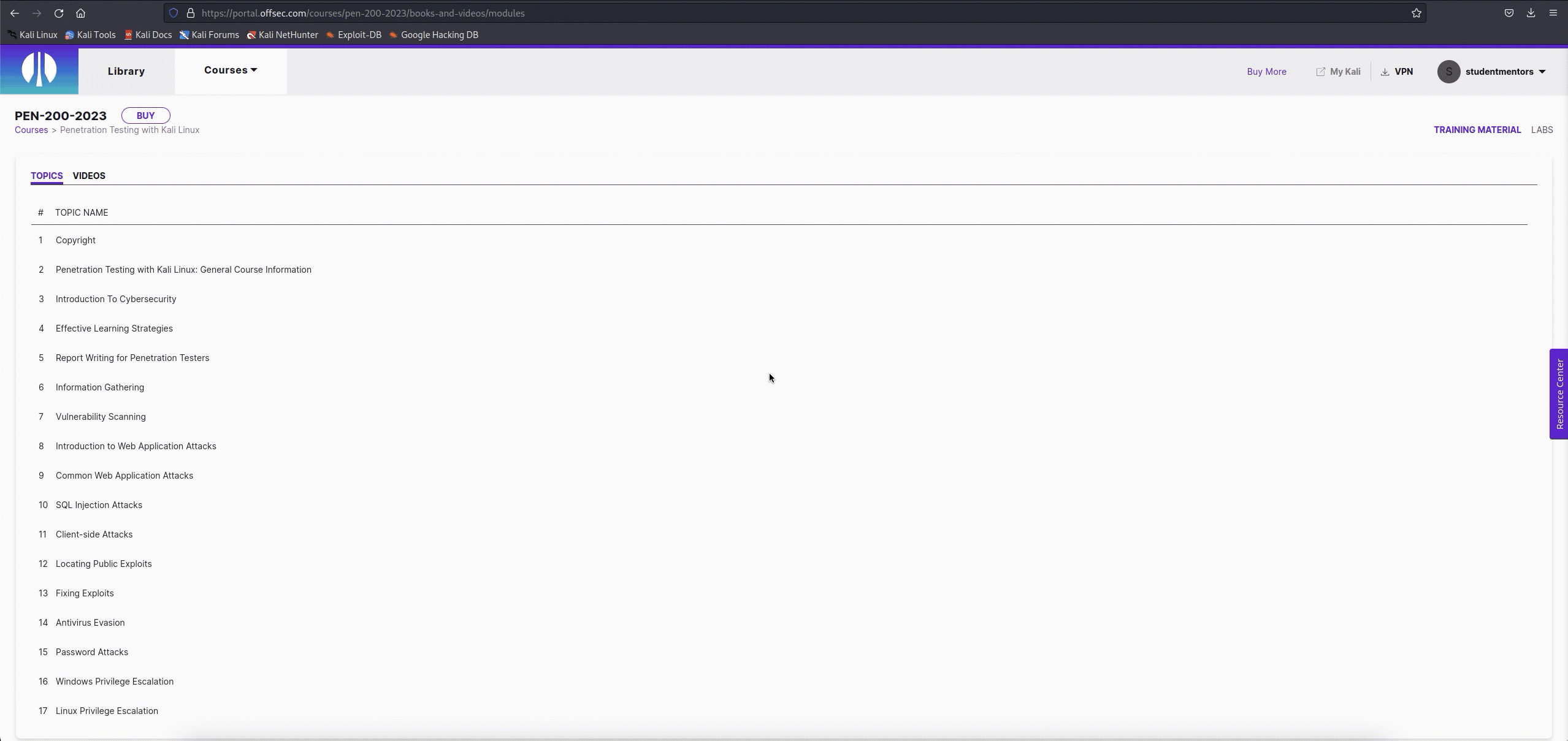 3. Starting your Challenge Labs
Access your dedicated Challenge Lab machines by clicking on your course and then "CHALLENGE LABS" in the top right corner (under your username)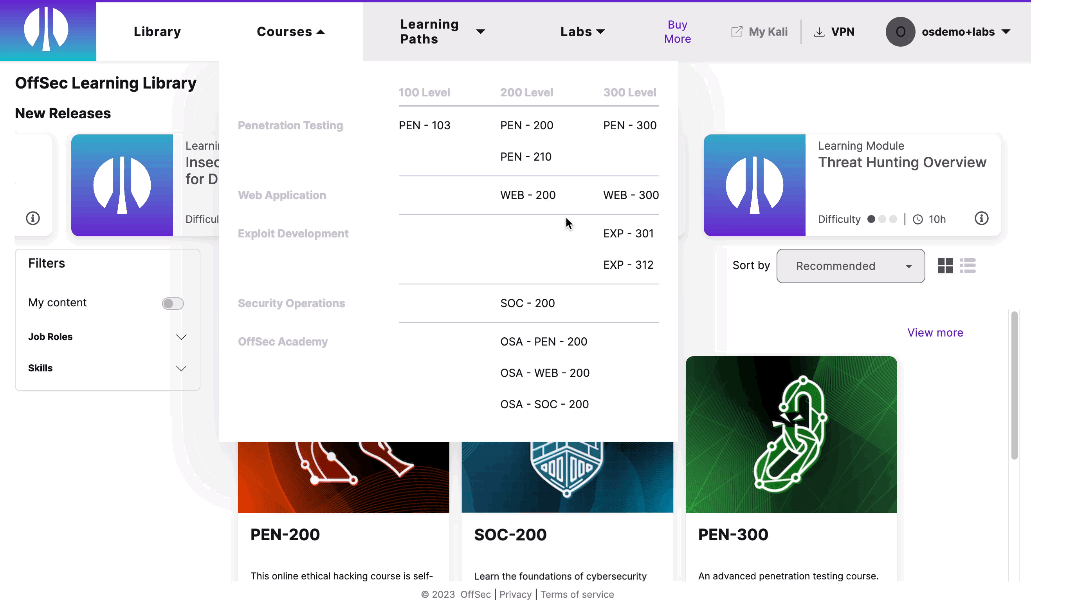 We have created a lab connectivity guide for each of our courses. In these guides, you will be able to find connectivity information, general lab usage and rules of behavior, hazards, and troubleshooting steps that will assist you.
4. Plan your journey
While the OffSec content is self-paced, self-directed, and designed for self-learning, we highly recommend you start your learning journey by planning ahead, account for the time you can afford to invest in your studies, and set realistic and achievable goals for yourself.
To help you out, we have prepared a few examples of customized learning plans. You will see below examples adjusted based on the course content and time. If you have purchased a Course & Cert Exam Bundle, you will find below a 12-Week plan. If you are a Learn subscriber, the 24-Week plan will give you a more relaxed pace, with plenty of time left to explore the content of a Learn subscription which is not directly tied to the main course you chose to study.
As you go through your studies, monitor and adjust your plan according to your progress, if you consistently meet and even exceed the goals, don't hesitate to accelerate your learning plan. If you are falling behind, do not get discouraged, adjust your goals to smaller increments that are achievable for you. It is okay for your learning journey to take longer than you planned, the key to your success is for you to keep showing up.
---
*Oct 2022 video - interface/functionality may change as OffSec Learning Platform improves
Below you will find supplementary documentation that will assist you in managing your exam:
Scheduling an Exam
To secure your desired exam date, schedule your exam as soon as possible, particularly if you prefer weekend testing. You have up to three opportunities to reschedule before locking in a specific date and time. For detailed instructions on scheduling, rescheduling, and checking exam expiration dates, please reference the Important information about exam scheduling in the Training Library article.
Exam Guide
Below please find a series of exam guides that include instructions on exam connectivity, tool restrictions, and exam documentation. Please choose the guide specific to the exam you will be attempting:
Exam Proctoring
You will be responsible for understanding and meeting the technical and functional requirements for a proctored exam. We recommend you start by familiarizing yourself with the following:
---
Supplemental Guide
Introductory Content
If you are a Learn subscriber you will have access to all introductory-level content, PEN-103, and PEN-210 via the Course tab.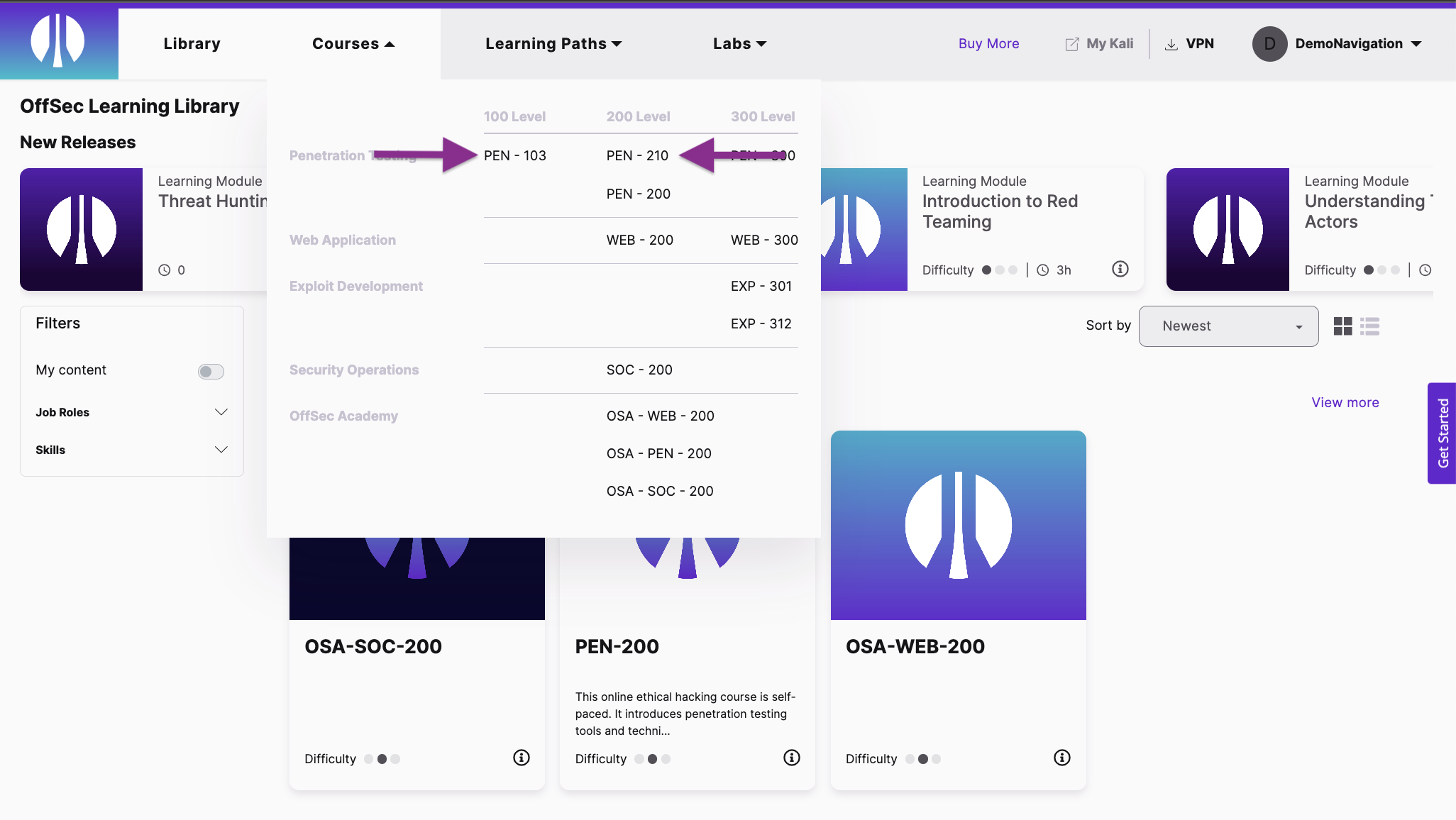 We recommend reviewing the following pages for a comprehensive overview of these courses.
The Proving Grounds (PG Play and Practice)
If you have an active Learn subscription, you will be granted unlimited access to our PG Play and Practice machines. 
You can find PG Play and Practice machines under the "Labs"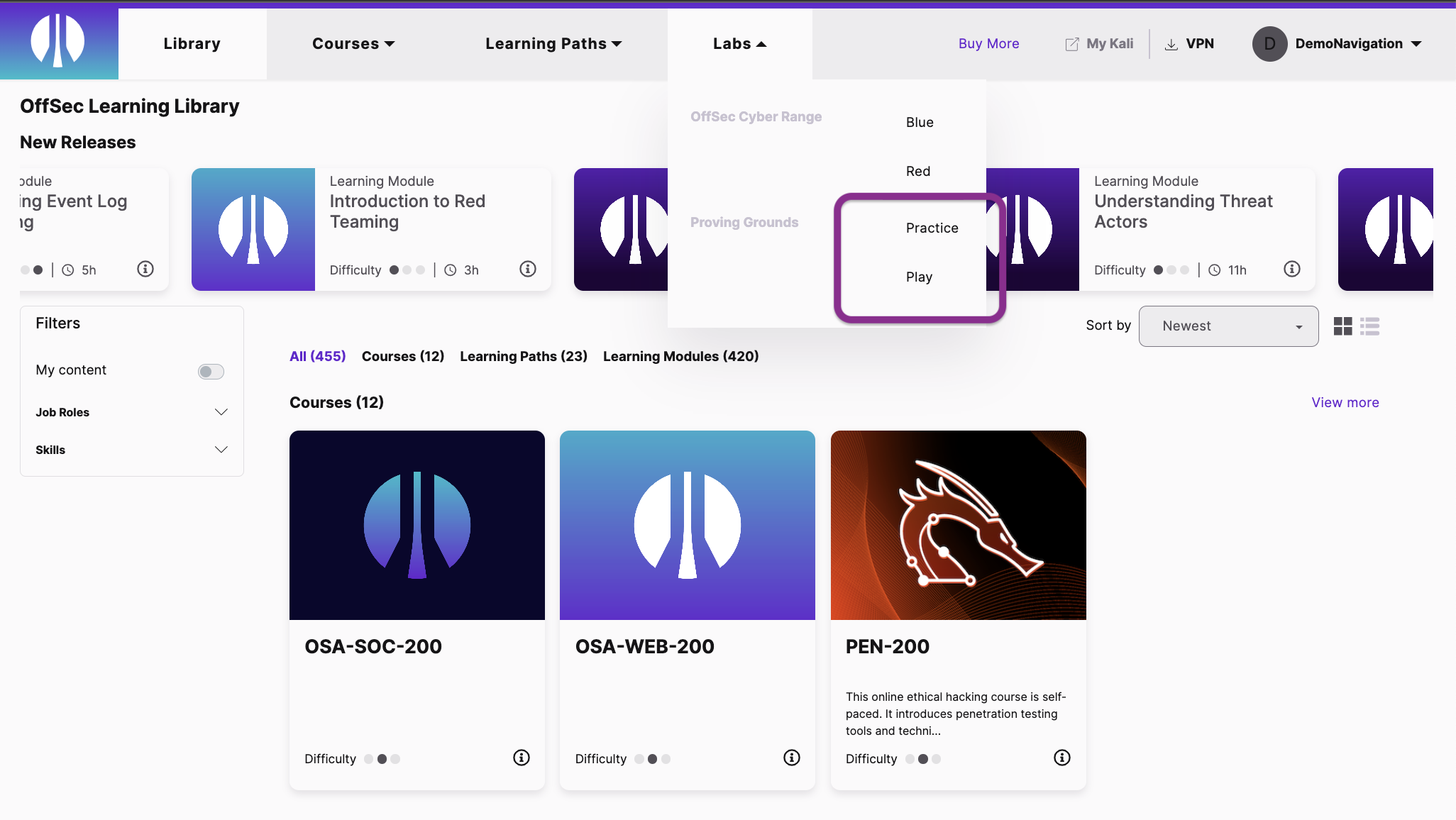 You may see "OffSec Cyber Range" above the "Proving Grounds".
Note: OffSec Cyber Range will only be visible to learners with active Learn Enterprise subscription.
Here are the different ways you can connect with our team of support experts:
Discord - Join our vibrant OffSec Community Chat Platform, where you can connect, collaborate, and grow with like-minded learners and industry professionals. To learn more and join the conversation, simply visit the OffSec Community Chat User Guide.
Forum - You may also interact with OffSec Students via our OffSec Forums. If you have not received or forgotten your Forum Credentials, please contact help@offsec.com for assistance.
Live Chat - Encountering technical difficulties connecting to the proctors during the exam? Live Support is available to help you.
Email - If you have any general support-related questions, you can send us an email by submitting a request here.
For efficient support, kindly provide your OSID number when reaching out to our team.