In this article, you will find answers to the following questions regarding navigating the Learning Library.
---
At the top of the Library page in the OffSec Learning Platform you can find the New Releases section. Here, you will be able to see a preview of all new content added to the Offsec Learning Library.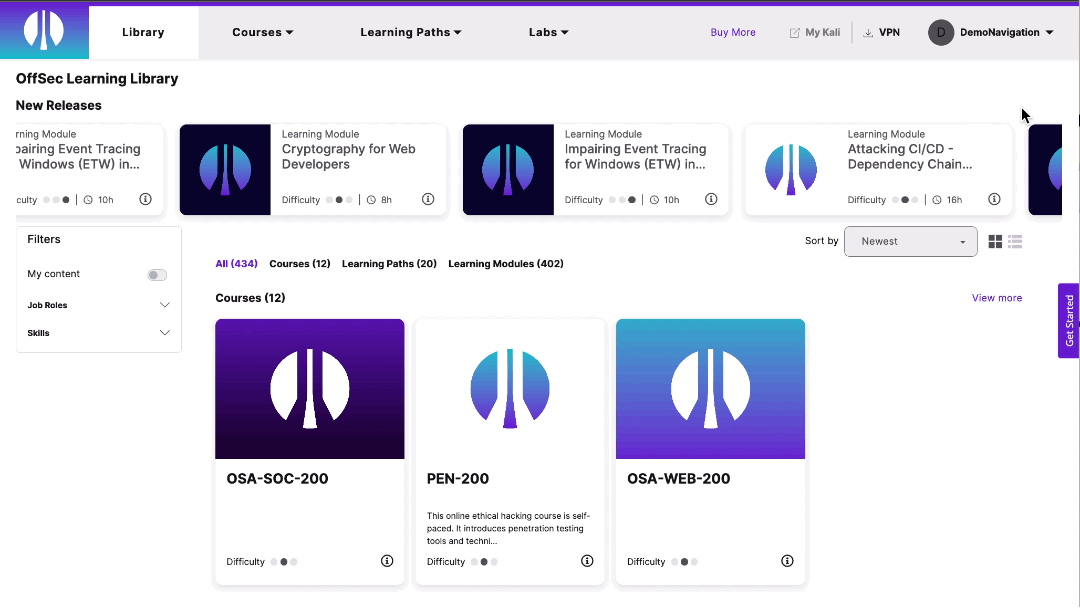 ---
On the main Library page, under Filters, enable the My content toggle. You will now only be able to see the topics included in your active, purchased product.
Note: The My content toggle only shows for logged in users.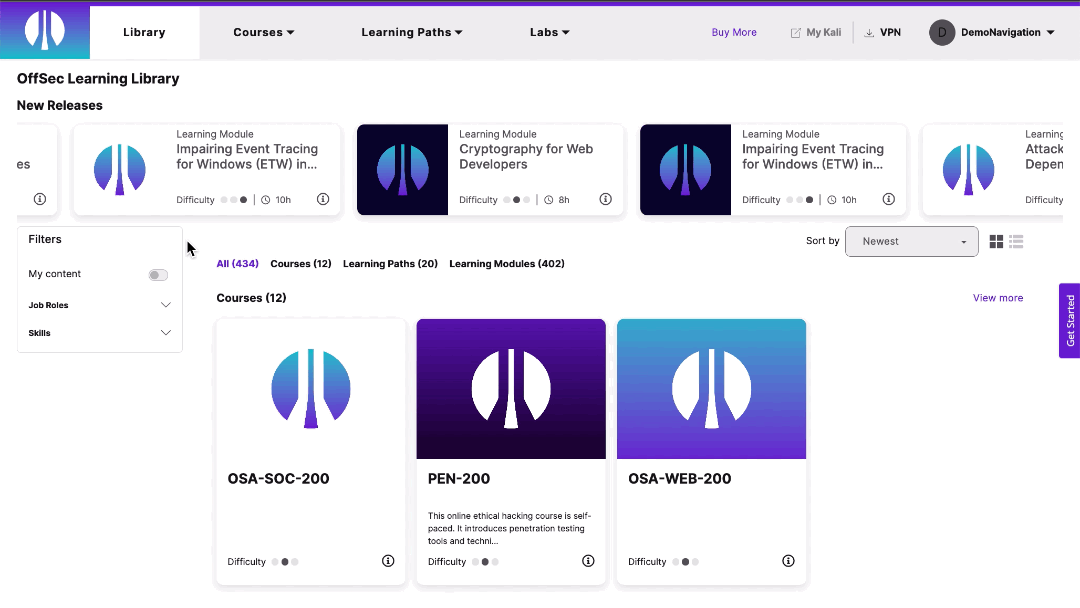 Once you are ready to see all content available in the OffSec Learning Library, you can disable the My content toggle.
Additional information: ​​If a Learner purchases a new subscription or bundle (new products), the content will only appear under the "My Content" toggle switch after 30 minutes.
---
The Filters allow you to narrow down your search specifically related to what you're looking for. You can combine filters to further narrow down the search or clear all filters if you need to start from the beginning.
The filters available are:
Job Roles:
With Job Roles, topics are grouped together so that learners can easily develop their skills for specific job roles, such as, Network Penetration Tester, Exploit Developer, etc.
Skills:
With this filter, you can look to further develop your expertise based on specific skills such as Exploit Development or Penetration Testing, as a few examples.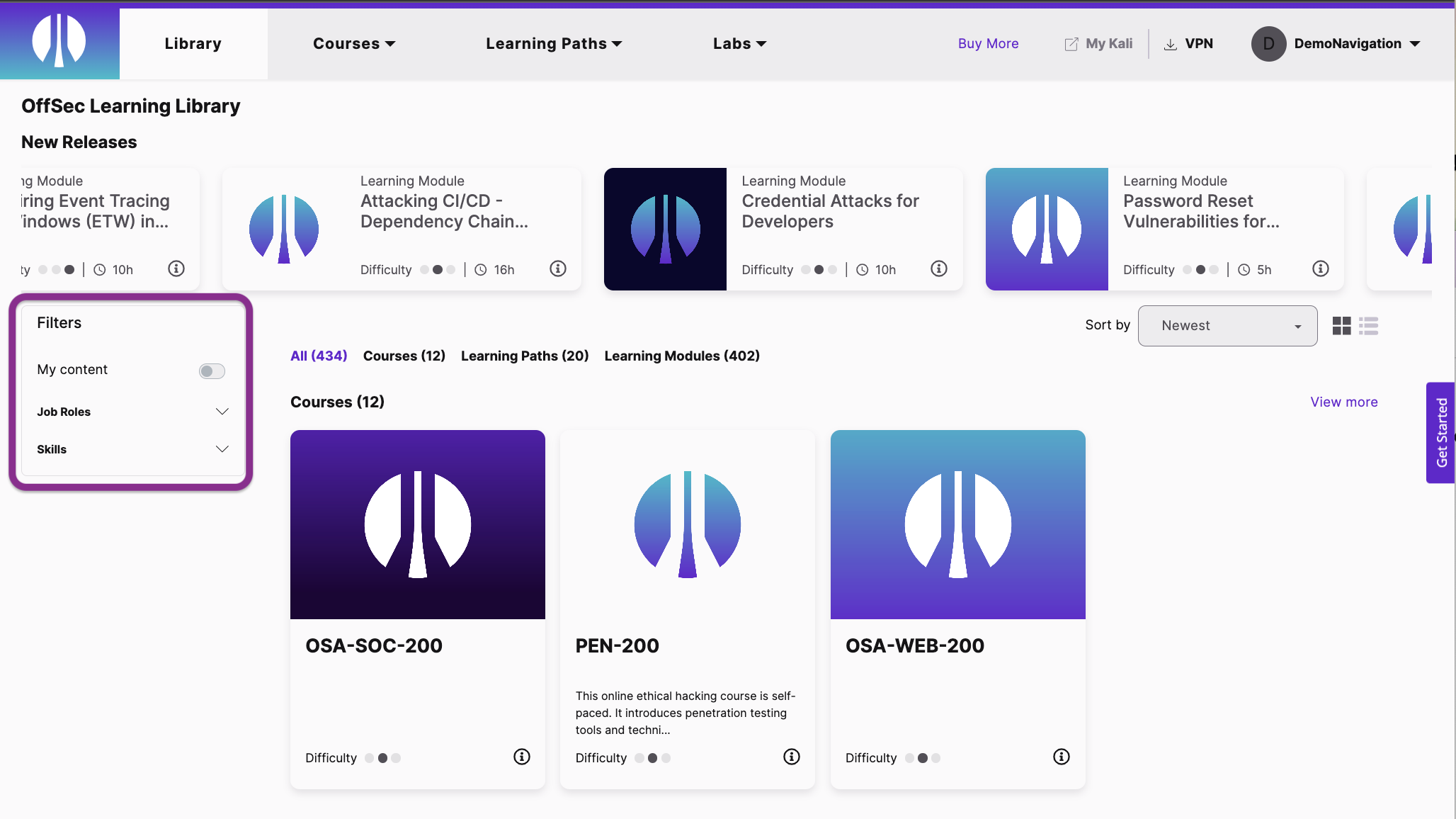 You also have the flexibility to arrange the displayed content according to your specific study requirements, for example, if you are short on time, you may choose to only explore Learning modules.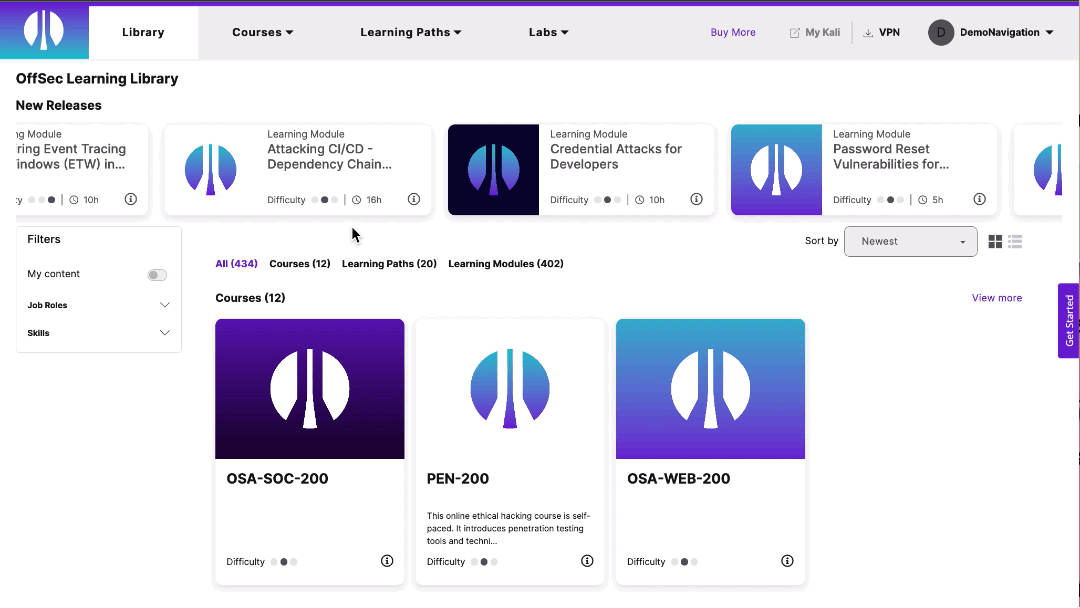 Additionally, you can opt for either a list or tile view for your preferred visual representation.
---
The easiest way to navigate to a Course or Learning Path is via the drop-down menus at the top of the OffSec Library Platform
The Courses drop-down, displays a list of all the courses available, regardless if you have purchased them or not.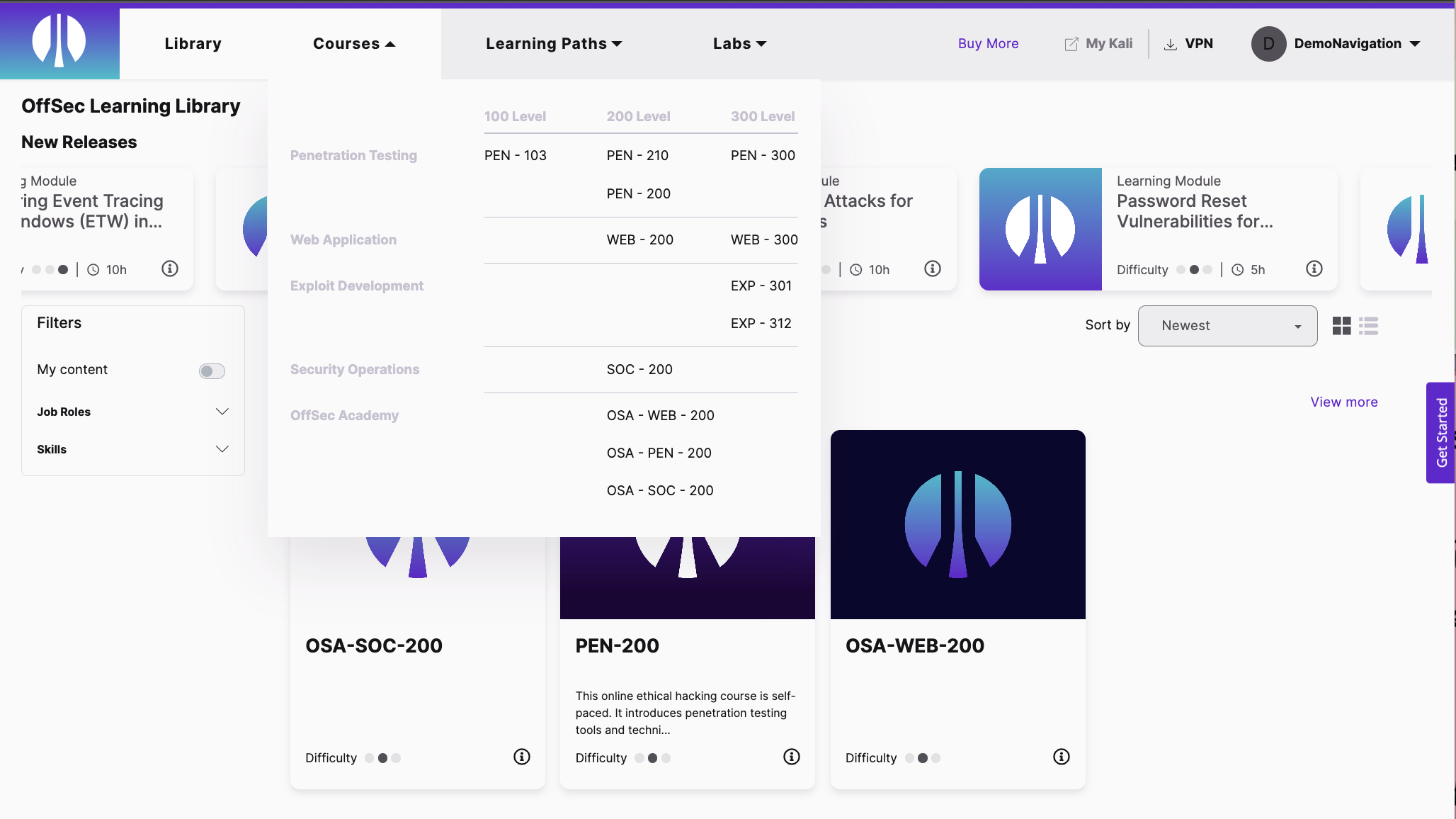 Similarly, the Learning Paths drop-down displays a list of all Learning Paths available.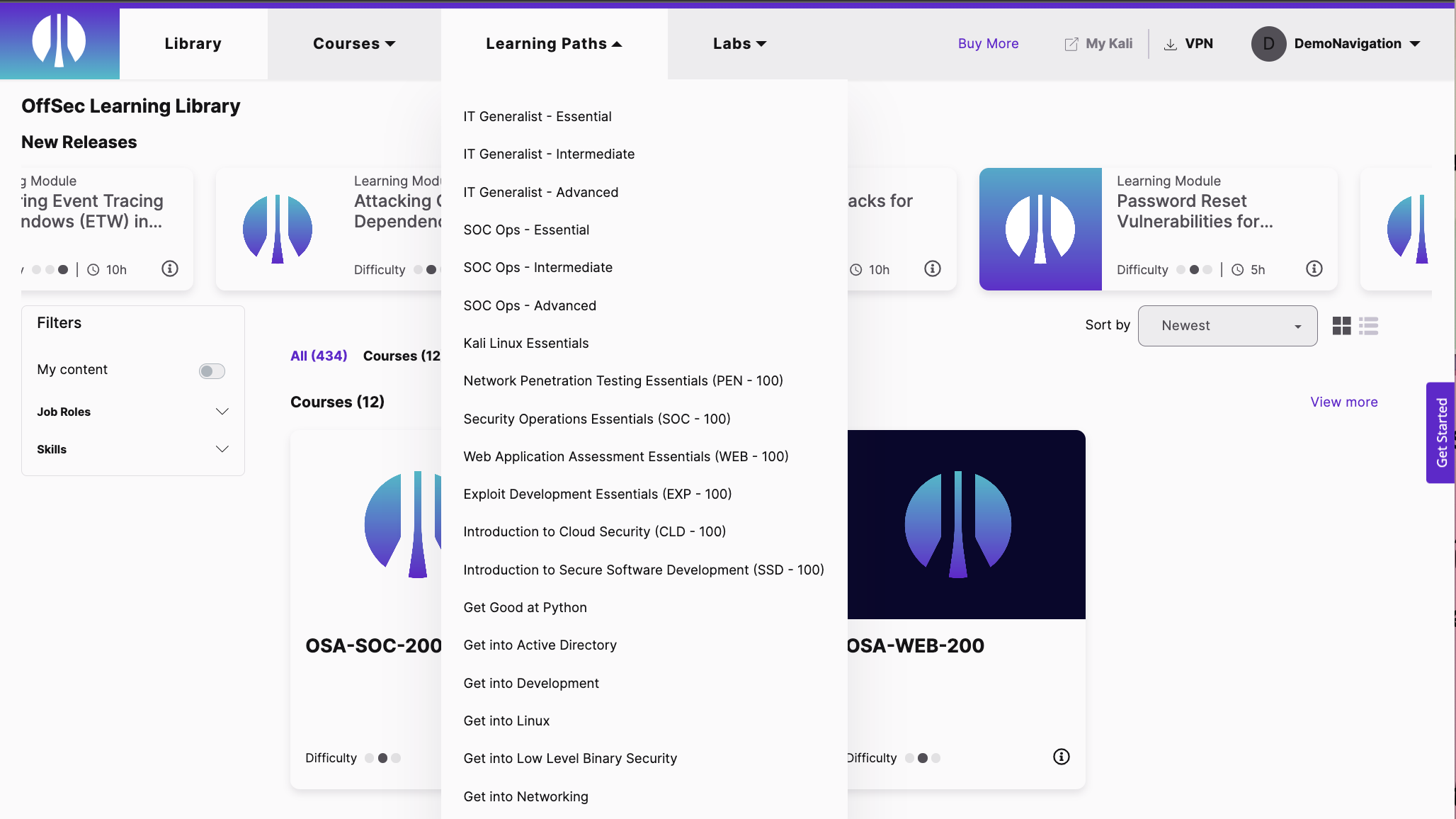 All you need to do is click the appropriate drop-down and select the course or Learning Path you wish to access. 
---
OffSec offers a series of labs that are independent of any Courses or Learning Paths:
Learners can access this labs via the Labs drop-down available at the top of the of the Offsec Learning Platform.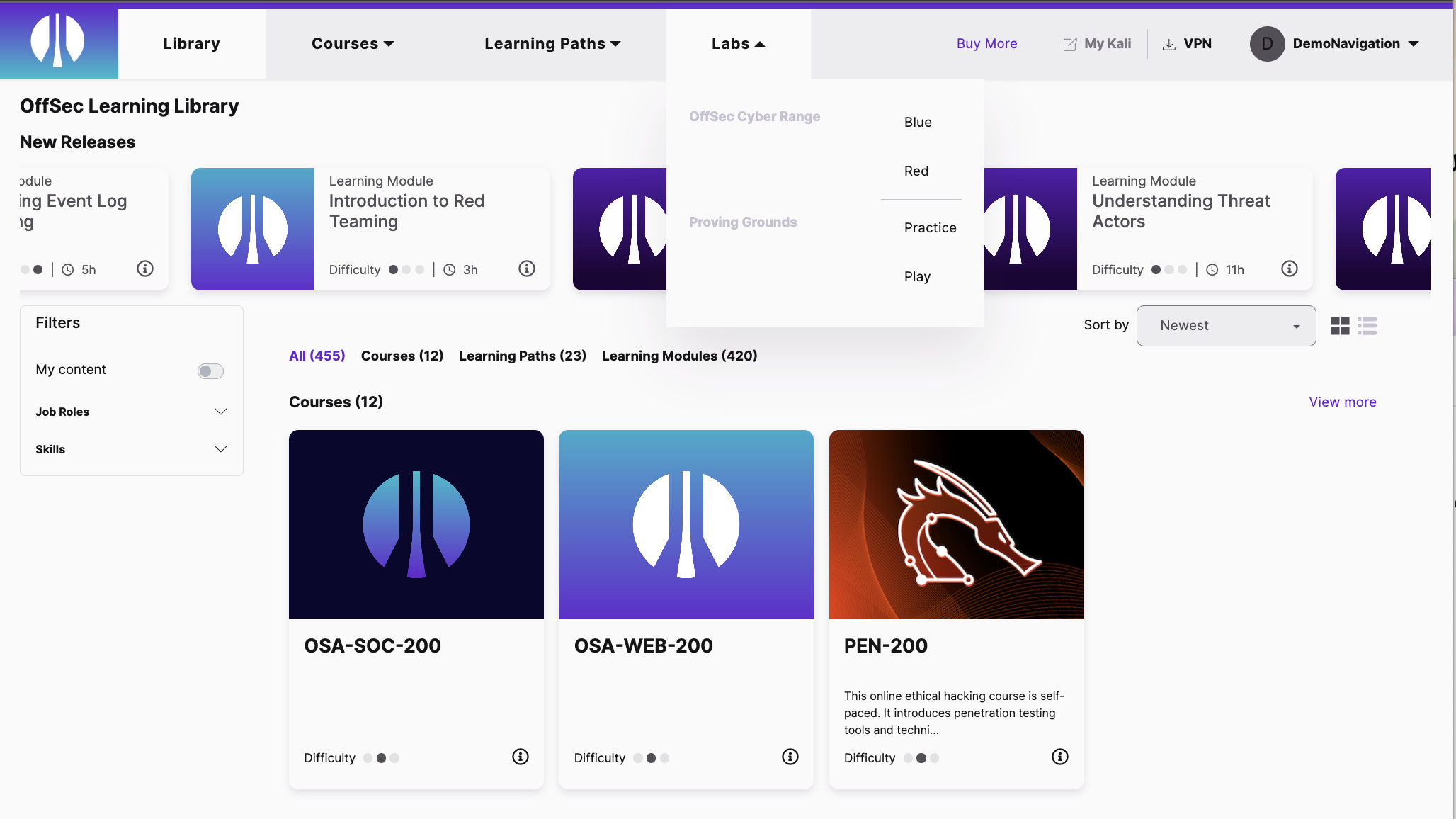 Note: OffSec Cyber Range can only be seen under the Labs tab if you have an active Learn Enterprise subscription.
---
Please try clearing your cache and cookies, then refresh the page and reattempt your action.
Should the issue persist, please submit a ticket to our support teams.