Re-assigning a seat license is a great way to get more learners the cybersecurity training they need. With Learn Enterprise, you can now re-assign seats all on your own!
FAQ's:
Full admins or sub-admins can reassign a pending or accepted Learn Enterprise license for as long as the license is active.
---
To reassign a Learn Enterprise subscription license, use the 'Reassign license' functionality available on the corresponding invitation under your 'My Learners' section. Follow these steps:
Log into your admin account and click 'Manage my team' to access your products dashboard.
Locate the invitation you want to reassign.
Click on the license's menu and select 'Reassign license'.
Fill in the email address of the new learner you want the license to be reassigned to.
Click 'Continue.'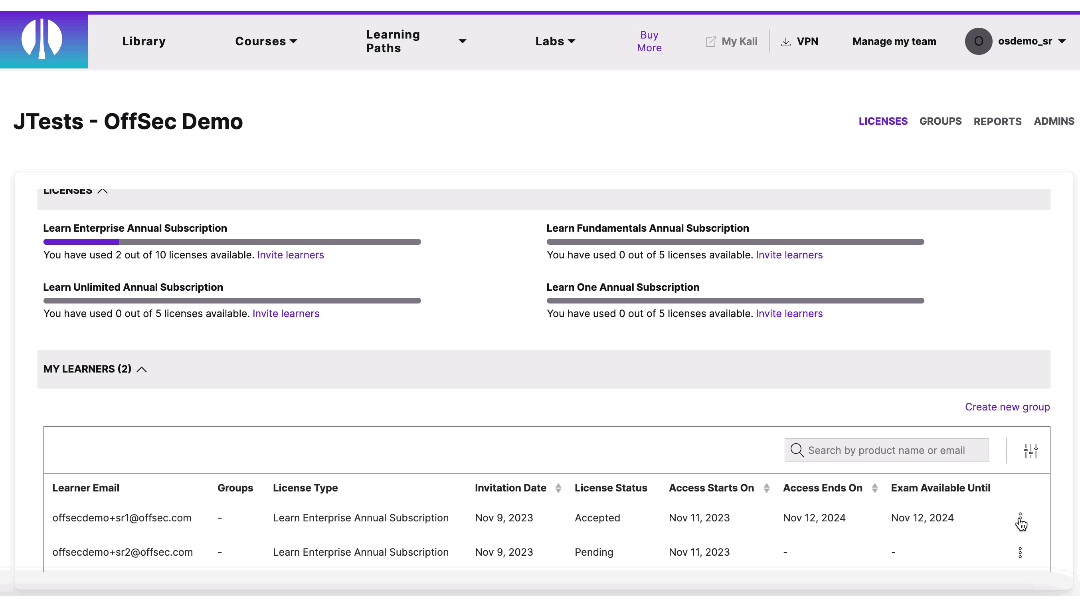 ---
Once the license is successfully reassigned, any content access coming from the Learn Enterprise subscription is removed.
Any progress the learner has made during the time the Learn Enterprise subscription was active on their account will be kept and will be available in the reports section.
---
No, the duration of Learn Enterprise subscriptions is fixed. For example, if you reassign a license that will expire in three months until its expiration date, the new learner will have access to the Learn Enterprise content for the remaining three months.
---
Currently, there is no limit on the number of times you can reassign a Learn Enterprise license.
---
Yes. If you reassign a Learn Enterprise subscription license to a learner who has active access to any product, they will keep those products until they expire.
For instance, if the learner currently has 6 months left on their Learn One subscription, reassigning the Learn Enterprise license to them won't affect their Learn One subscription. Even if you reassign the Learn Enterprise license to someone else three months later, the learner will still have access to their Learn One subscription for the remainder of their subscription period.
---
No, only the Learn Enterprise subscription licenses are reassignable in nature. Other subscription licenses may be reassigned only if a valid reason is identified and the criteria are met.
For additional information and instructions about reassigning Learn Fundamentals, Learn One or Learn Unlimited, please visit this article.